2020 RAM 2500 Towing Capacity and More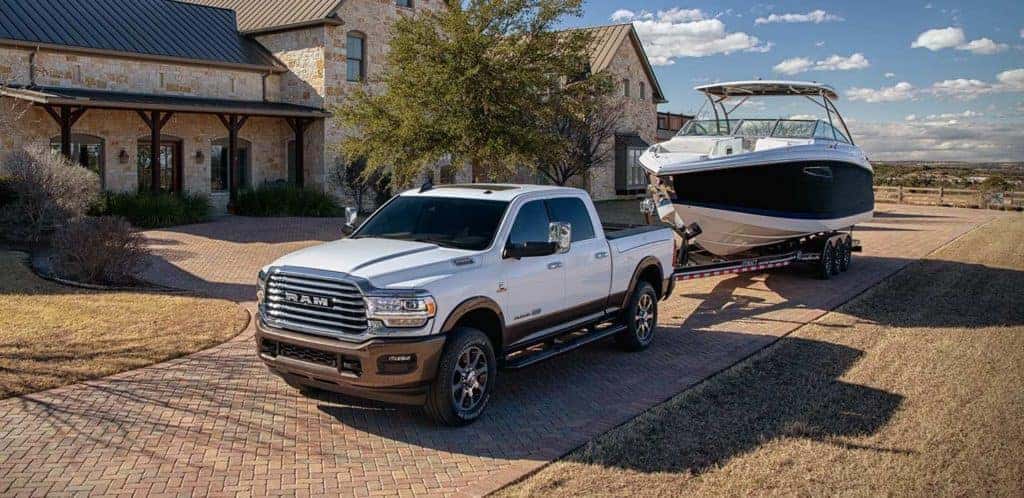 The 2020 RAM 2500 Packs Plenty of Power and Performance for Truck Shoppers
If you're looking for car dealerships near Los Angeles that offer powerful pickup trucks, look no further than our dealership. We offer one of the most powerful trucks of them all, the 2020 RAM 2500. Built to perform, this pickup truck is all you need to complete all types of tasks and jobs.
2020 RAM 2500 Details
The 2020 RAM 2500 is powered by an available 6.7-liter CumminsÒ Turbo Diesel inline-six engine that produces a power rating of 370 horsepower and 850 lb-ft of torque. This engine is known for its responsiveness as well as efficiency. It's an engine that can do anything, but its main specialty is outright pure performance.
Featuring a towing capacity of up to 19,680 pounds, this engine allows you to tow the biggest of trailers and campers. This type of power provides you with a clear runway to go to any destination with everything you possibly need. From passengers to cargo, the 2020 RAM 2500 is a venerable hauling machine, which also boasts a payload capacity of 3,160 pounds.
The best way to fully experience its power is through a test drive, which can be had today at our RAM auto dealership Thousand Oaks.
2020 RAM 2500 Safety and Special Features
Along with great power, comes great responsibility, and the 2020 RAM 2500 delivers is just as safe, as it is powerful. It features plenty of safety features designed to keep you and your passengers protected. One safety feature we are fond of is the blind spot monitoring system which helps you identify vehicles that enter your vulnerable blind spots so you can avoid any unnecessary collisions.
So if you're serious about pickup trucks, you should seriously visit Shaver RAM and test drive the 2020 RAM 2500 today.
Buying a 2020 RAM 2500?
Along with a full inventory of new RAM trucks, we also offer excellent customer service and an experienced team of financial experts, all ready to help you take a pickup truck of your choice home today. Head to our RAM dealership near Los Angeles and we hope to see you soon!