Best Vehicles for Towing near Los Angeles, CA
Shaver Chrysler Dodge Jeep® & RAM loves being able to offer a great selection of brawny RAM trucks as part of our new vehicle lineup to Thousand Oaks drivers. Whether you're looking for a heavy hauler to tow your boat for play or a powerful work truck designed to get the job done, our RAM dealership offers a myriad of trucks with outstanding towing capabilities that will cater to all aspects of your busy life.
Towing Terms Explained
If you're new to the world of RAM trucks, you may be a towing term newbie. Here are a few words you should know.
GAWR: Standing for Gross Axle Weight Rating, this acronym means the combined weights for which axle of a truck are rated. Rear axles will usually have a higher rating since they do most of the work when it comes to towing.
GCWR: Meaning Gross Combined Weight Rating, this term means the combined weight for the truck and trailer for which your RAM pickup is rated.
GTWR: An acronym for Gross Trailer Weight Rating, this is the total weight that your trailer can handle safely. It includes the combined weight of both the trailer and the cargo inside. To find the exact number, look for a tag located near the tongue of the trailer or on one of the wheel wells.
Payload: This is what you can securely stow in the bed of your truck. Luckily for folks who have a lot of possessions, the 2019 RAM 1500 is equipped to carry between 1,180 and 2,320 pounds.
Towing Capacity: This term means what you can pull behind your truck. The towing capacity for the RAM 1500 pickup is 6,640 to 12,750 pounds.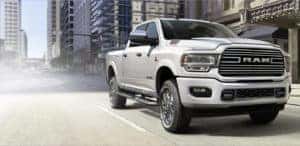 RAM Models Great for Towing
RAM trucks are ideal for towing and hauling huge loads thanks to their factory-installed towing package. For even more power, consider the added muscle of the 2019 RAM 2500 or the RAM 3500 truck.
If you're on the lookout for a truck that can tow just about anything, stop by Shaver Chrysler Dodge Jeep® & RAM today. We're located at 3888 Thousand Oaks Boulevard and look forward to equipping you with the towing power you need!