Types Of Engine Wear | Engine Service in Thousand Oaks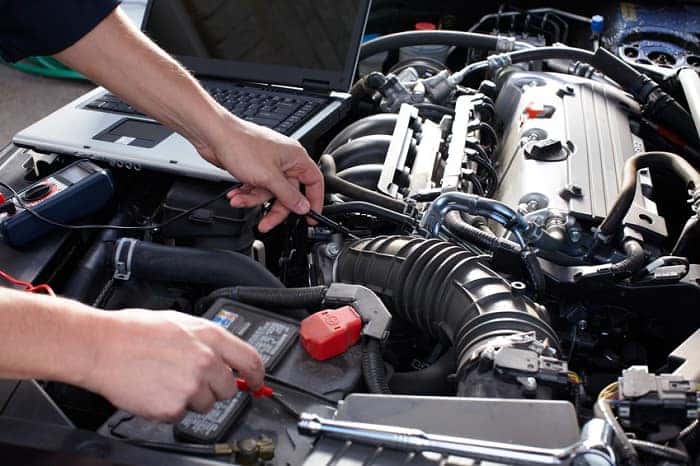 Every vehicle in our Thousand Oaks, CA Jeep® dealership is built to meet exacting standards in terms of performance, reliability, safety and technology. Still, it's up to you to keep up with necessary maintenance to ensure your Chrysler Pacifica minivan performs when it's most needed. This is especially important when it comes to the engine. If you're in the Los Angeles or Van Nuys area and you're looking for expert engine service, bring it in to the certified technicians at Shaver Chrysler Dodge Jeep RAM.
Types of Engine Wear
Maybe you haven't thought about how engine wear affects the performance of vehicles like the Dodge Durango SUV or Jeep Grand Cherokee. The certified technicians at our Thousand Oaks, CA service center can tell you about the four main types of engine wear.
Abrasive wear – Occurs when outside contaminants scour the metal parts inside the engine.
Corrosive or chemical wear – Occurs when chemicals damage the metal components inside the engine. In general, we see this kind of wear in vehicles that are used infrequently, such as seasonal vehicles.
Adhesive wear – This type of wear is due to excessive metal-to-metal contact, such as you might experience with high loads, high speeds or extreme temperatures.
Fatigue wear – The final type of wear happens when undue stress is put on lubricated surfaces. We see this frequently with rolling elements inside the engine, such as bearings.
Why Service Your Car at Shaver Chrysler Dodge Jeep RAM
In order to keep your Jeep Wrangler's engine in prime condition, it is vital to bring it into our Los Angeles-area Chrysler Dodge Jeep RAM dealership for regular maintenance and inspections. Our experienced and certified technicians use only MOPAR performance parts so you can be assured of their quality.
Our auto service center in Thousand Oaks, CA also offers early bird hours, express oil change service, and free car rentals if you have to leave your vehicle. If it's time to bring in your RAM 1500 truck for service, be sure to schedule a service appointment today.
If you're looking to buy or lease a new car, truck or SUV, we invite you to come in for a test drive at our RAM dealership serving Thousand Oaks. A member of our experienced sales team will help you find the right vehicle for your lifestyle and budget.